Transport of electricity
Power transmission and distribution
After electricity is generated at a power plant, it is transported to customers. Cities, towns and provinces across the entire country are criss-crossed with power lines that "carry" electricity. Large generators produce electricity at about 22,000 volts.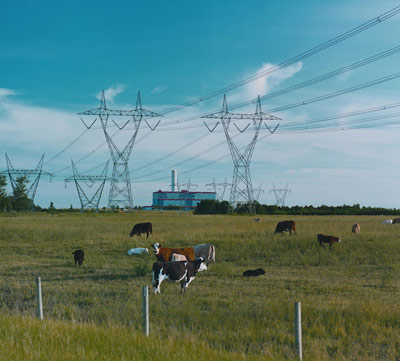 When electricity travels long distances, it is more efficient to use higher voltages. For this reason, electricity from the generator is sent to a power transformer that boosts the voltage up to 72,000 volts or 240,000 volts (transmission voltage).
High voltage transmission lines carry electricity long distances from power plants to substations. The long cables of the transmission lines are made of copper or aluminium because those metals have a low resistance.
The power lines are routed to substations where power transformers change the very high voltage electricity to distribution voltage electricity. Typical distribution voltages are 8,000 to 25,000 volts. From these substations, electricity is sent to factories, LRT (light rail transit), streetlights, stoplights and neighbourhoods.
Within your neighbourhood, a distribution transformer mounted on a pole (overhead distribution) or a concrete pad on the ground (underground distribution), converts the power to an even lower voltage (220/110 volts) for use in your house. Larger appliances, like stoves and clothes dryers use 220 volts and smaller appliances like lights, TVs, radios and computers use 110 volts.
Further information
Electric Power Transmission (Wikipedia)
Electric Power Transmission is the transport of electrical energy on high voltage lines between the generation site and the distribution network.
Electrical Distribution (Wikipedia)
Electrical Distribution is the transport of electrical energy between a transmission substation and commercial or residential customers.
Electrical Generation (Wikipedia)
Electrical Generation is the conversion of mechanical energy to electrical energy.
---