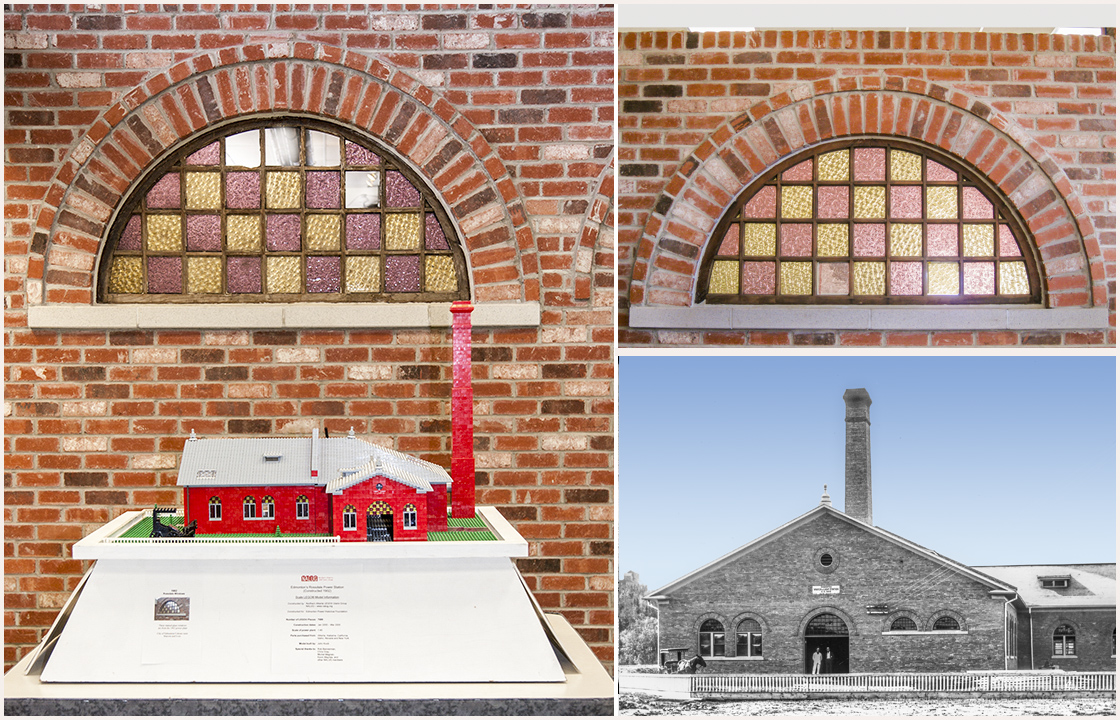 1902 Stained Glass Windows
Tuesday, January 10, 2017
In the late 19th and early 20th century, demand for electricity in Edmonton was growing exponentially, and the Edmonton Electric Lighting & Power Company found itself scrambling to keep up with demand. By 1914, plans were already being drawn up to tear down the 1902 Rossdale Power Plant built only a dozen years earlier in order to construct a newer, larger plant. As it happens, the Great War happened, and the nation's focus turned to the conflict in Europe, temporarily staving off demolition. Nonetheless, rarely was any thought given to storing & preserving anything from those early days in the headlong rush to embrace new technologies and build new capacity. Consequently, very little survives from those times except photographs.
Of notable exception are the arched, stained-glass windows from the 1902 Rossdale Power Plant. When the power plant was finally razed, a farmer from the Namao area was able to scavenge some of the used bricks, and four of the plant's stained-glass windows. These windows then languished in the loft of a barn until the turn of the 21st century, when the current owners decided to auction off much of the farm's content. Through a turn of events that can only be described as serendipitous, a retired Edmonton Power employee noticed the windows in a flyer for the auction, and contacted EPHF. Too late for the auction, the EPHF located the buyer, a local antique store, but, sadly, they had already been sold on. But karma intervened once again, and a week later the antique dealer contacted EPHF offering two of the windows. This time there was no hesitation, the windows were collected, and eventually permanently mounted in the brick partition wall in the EPHF museum.
These two windows are the oldest artefacts in the collection that connect directly to Edmonton's early history of electricity generation, and are now proudly & prominently displayed, original and unrestored in our museum.
Author: ephf
Edmonton Power Historical Foundation is a non-profit society dedicated to preserving the history of electric power in the City of Edmonton and the Province of Alberta, for the education and entertainment of current and future generations.
---